Welcome Message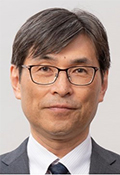 Masahito Hara, M.D., Ph.D
President
14th Asia Spine Meeting
38nd Neurospinal Society of Japan
Department of Neurosurgery and Spine Center, Aichi Medical University
Dear colleagues and friends,
It gives me great pleasure to invite you to the 14th Asia Spine Meeting that will be held on 16th-17th of June, 2023 in Nagoya, Japan. The congress is being organized in conjunction to the 38th Annual Meeting of the Neurospinal Society of Japan.
Asia Spine was founded in 1997 and was initially coined as "Japan-Korea Conference on Spinal Surgery" and was held as a biennial meeting. The society was renamed "Asia Spine" in 2010 and we have achieved and developed scientific advancement and good partnership in Asian countries over 10 years through these meetings.
The main theme of this academic meeting is "Jin and Geido" in Japanese. The subtitle is "Deepen learning with compassion and thorough pursuit."
"Michi" or "Dou" is a traditional Japanese way of thinking that repeats something until it becomes a habit, understands its meaning, and deepens one's skills and thoughts in a humble manner. This time, I used the word "geido" in the title. "Gei" is similar to art and has the meaning of learning. If the surgery itself sublimates into art and we can continue to have compassion, we can expect to make a leap forward. At this meeting, we hope that all the participants will be shown their own "Dou" or way, come into contact with various ideas, and bring back something that touches your hearts.
The venue is located at the front of Nagoya Station which provides an excellent base to explore the ancient Japanese tradition, culture and original food as well as grants excellent access for shopping and sightseeing.
We take great pleasure in hosting this multi-disciplinary congress that focuses on the various traditional and progressive spinal surgical techniques and researches. We hope that the programs of the congress will make your stay productive and rewarding.
We look forward to welcoming you in Nagoya.